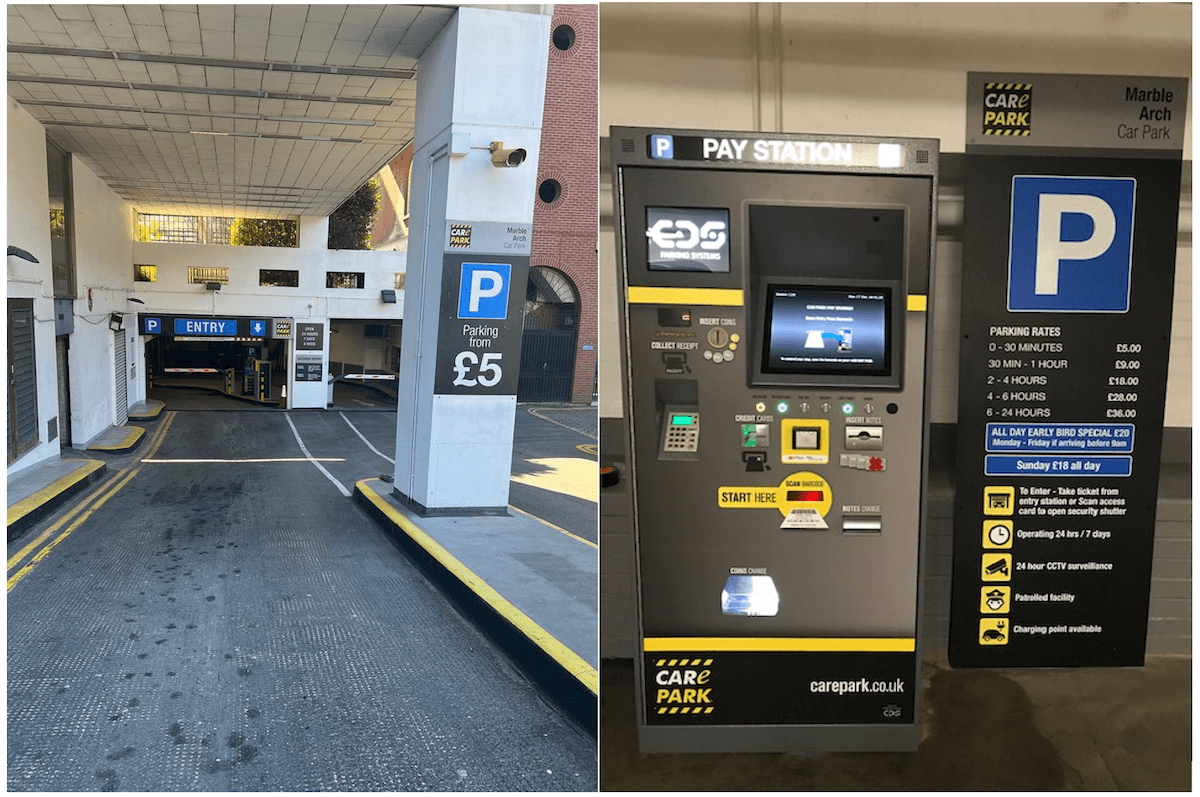 BILTON TOWERS (LONDON) CAR PARK
Bilton Towers, our Marble Arch Car Park, is centrally located just a few minutes walk from the bustling city centre of London, making it the ideal parking in central London. Ideally located for every kind of trip, from work to leisure, you can enjoy your time in London with the knowledge that your car is secure with our Marble Arch parking.
Marble Arch Tube Station - 3 mins walk
Oxford Street shopping - 5 mins walk
Hyde Park - 5 mins walk
Why Choose Care Park For Your Marble Arch Car Park?
24 hour access
Fully wheelchair accessible
CCTV (ANPR cameras)
Secure barrier entry and exit system
Fantastic central location
How Long Can I Park For At Care Park Marble Arch?
We have very flexible booking options with our Marble Arch parking, so you can choose to park for as long as you need. Whether you need to stay for half an hour, a day or a week, we're here to provide you with safe and secure parking that you can rely on at Care Park Bilton Towers.
Things To Do Around Bilton Towers
Bilton Towers, our Marble Arch car park, is ideally situated just a 5 minute walk from Hyde Park, within walking distance to Paddington, Mayfair, Soho and Buckingham Palace. We're also just 3 minutes walk from Marble Arch Tube Station and 5 minutes from Oxford Street and our Oxford Street car park, for more parking options in the area!
If you want to know how to make the most of your time in London whilst parking with us in our Marble Arch car park, you're in the right place!
| | Park Until | Price | |
| --- | --- | --- | --- |
| 0-30 mins | 10:16 - 09/12/2023 | £5.00 | |
| 30 mins – 1 hour | 06:16 - 09/12/2023 | £9.00 | |
| 1-4 hours | 09:16 - 09/12/2023 | £18.00 | |
| 4-6 hours | 11:16 - 09/12/2023 | £28.00 | |
| 6-24 hours | 05:16 - 10/12/2023 | £36.00 | |
| Sunday fixed rate | 05:16 - 09/12/2023 | £18.00 | |
Find Out More About Our Parking Near Marble Arch
To get in touch with a member of our team or to find out more about our parking, contact us today!
Explore Hyde Park
So, if you're wanting to spend the day in Hyde Park without having to worry about getting public transport home, our parking near Marble Arch is ideal. To avoid the London food and drink prices, take your own picnic with you in the car and then you only have a short walk until you're immersed in the greenery that Hyde Park has to offer. You could stay around the Speakers Corner area, a historical space that is devoted to free speech. Or, head towards the centre of Hyde Park to enjoy the Princess Diana memorial fountain and the stunning lake.
Spend The Day In Soho
If you want to experience a different side of London, our Marble Arch car park is also located within close walking distance to Soho, one of the most energetic areas of the city filled with some of the best bars, restaurants, shops and entertainment venues the city has to offer. From Liberty's department store to Ronnie Scott's Jazz Club, you can spend the whole day in Soho and still want to come back again and again. Our Regent Street car park is just around the corner from here too!
Visit Buckingham Palace
Buckingham Palace is one of the most iconic landmarks in London, so if you want to avoid the hustle and bustle of busy tube stops, our Marble Arch parking is ideal! Of course you will want to enjoy having a good look at Buckingham Palace, you can also visit St James's park, Westminster Abbey, the Big Ben and so much more. This is such a good spot for you to explore some of London's most famous areas! We also have additional parking near Buckingham Palace if you'd prefer to be based slightly closer to this fantastic attraction.