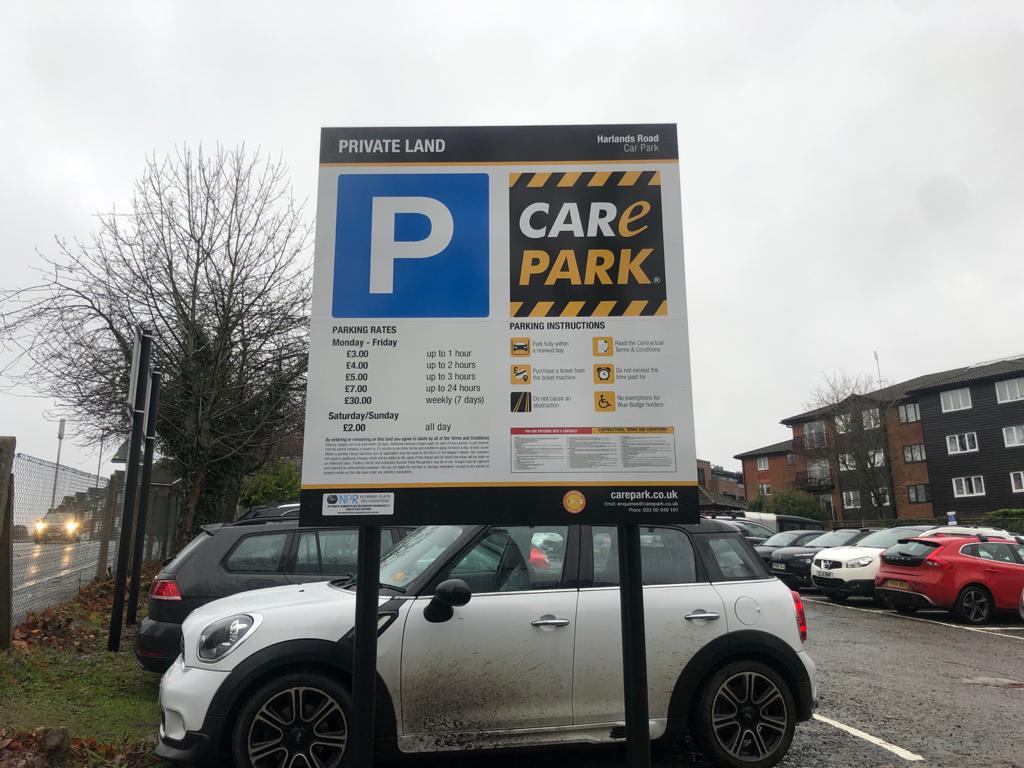 HAYWARDS HEATH CAR PARK
Our Haywards Heath car park is located just a 3 minute walk from Haywards Heath train station, which is a popular station for commuters travelling into London. With 126 trains a day from Haywards Heath to London Victoria on average, taking around 45 minutes, this is the perfect spot to park for the day so you can head to work safe in the knowledge that your car is secure.
With 100 spaces, ANPR security cameras and 24 hour access, you can leave your car for as long as you need with Care Park. We are also just a 5 minute walk from local shops and restaurants, if you are wanting to enjoy Haywards Heath itself.
Haywards Heath Train Station - 3 mins walk
Local Shops and restaurants - 5 mins walk
Why Choose Our Haywards Heath Parking
We provide a wide range of benefits with our parking at Haywards Heath Station, along with all of our parking in central London, helping to keep your car safe and secure whilst also making the booking and parking process as easy as possible for you.
Pre-booking available
24 hour access
Wheelchair accessible
ANPR Cameras and CCTV
Pay-by-plate machines
Find Out More About Care Park Haywards Heath
For more information about our Haywards Heath car park, contact us today!
Travelling From Haywards Heath Car Park
Whilst our Haywards Heath parking is ideal for exploring the beautiful town, it is also a great spot to travel to either London or Brighton.
Trains to Brighton run very regularly (around every 10 minutes) from Haywards Heath, and the journey only takes between 15 and 30 minutes, depending on the train you get. Brighton is one of the most popular seaside resorts in England and there is so much to do, but if you are staying slightly further out and need somewhere to keep your car for the day, our Haywards Heath parking provides the perfect solution so you don't have the stress of driving.
If you live in and around Haywards Heath, it is one of the most efficient stations to help you travel into London, whether for work or pleasure. As mentioned, there are around 126 trains a day from Haywards Heath to London Victoria and the journey only takes around 45 minutes, so you can get to work in the city quickly whilst knowing your car is safely parked with Care Park. For the days when there are train strikes and you need to get into the city, we have parking all across London, from Grosvenor Hill parking to Belgravia, so you can easily get into the city and know your car is safe.
Book your parking
| | Park Until | Price | |
| --- | --- | --- | --- |
| Up to 1 hour | 06:04 - 09/12/2023 | £3.00 | |
| Up to 2 hours | 07:04 - 09/12/2023 | £4.00 | |
| Up to 3 hours | 08:04 - 09/12/2023 | £5.00 | |
| Up to 24 hours | 05:04 - 10/12/2023 | £7.00 | |
| Saturday/Sunday | 05:04 - 10/12/2023 | £2.00 | |