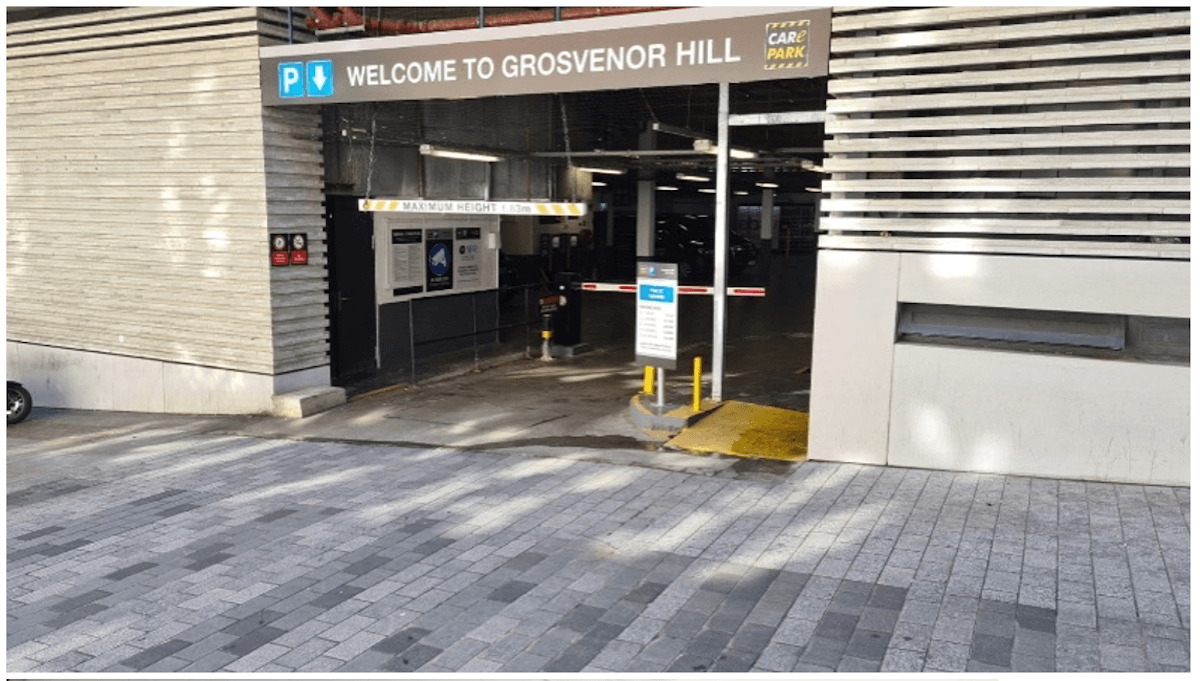 GROSVENOR SQUARE CAR PARK - GROSVENOR HILL
Our Grosvenor Square Car Park, Grosvenor Hill, is located in the very centre of Mayfair, making it ideal for any trip to London! Whether you're in the city for business or pleasure, you can park with us and enjoy the city safe in the knowledge that your car is parked securely. With 200 spaces, we have plenty of room in our parking in central London no matter how long you need to park for, but you can also pre-book to secure your space in advance. In the heart of Mayfair, our Grosvenor Square parking is just 5 minutes from Claridges Hotel, the Bond Street stations and Mayfair's finest restaurants, the perfect location for your time in one of London's most iconic areas. Pre-book with us today!
Claridges Hotel - 5 mins walk
Bond Street stations  - 5 mins walk
Mayfair Restaurants - 5 mins walk
What Makes Our Grosvenor Square Car Park Different
At Care Park, we have a strong focus on creating the safest possible environment for your car, as well as making the booking and parking processes straight forward for you. We do this with our following benefits:
Pre-book your space
Accessible 24 hours a day
Secure entry and exit systems
Centrally located in Mayfair, ideal as a Bond Street car park
Wheelchair accessible
CCTV with ANPR Cameras
Learn More About Our Grosvenor Square Parking
For more information about parking with us at Grosvenor Hill, or to speak to a member of our team, contact us today!
Things To Do In and Around Care Park Grosvenor Hill
When you park with us in our Grosvenor Square car park, which is also ideal as a Bond Street car park, you're right in the heart of Mayfair. There's so much to see and do, but here are a few highlights.
Book your parking
| | Park Until | Price | |
| --- | --- | --- | --- |
| 0-1 hours | 06:04 - 09/12/2023 | £8.00 | |
| 1-2 hours | 07:04 - 09/12/2023 | £16.00 | |
| 2-4 hours | 09:04 - 09/12/2023 | £32.00 | |
| 4-6 hours | 11:04 - 09/12/2023 | £45.00 | |
| 6-24 hours | 05:04 - 10/12/2023 | £55.00 | |
Experience Some of London's Best Restaurants
Mayfair is home to some of London?s best restaurants, and within just 5 minutes walking distance, our Grosvenor Square car park is the perfect location for it.
First up we have Sketch, a 6 minute walk from our car park. If you want to experience something special, then Sketch is the place to go, with the entire restaurant being fueled by art, from the decor to the food. The venue is comprised of different rooms all with different themes and menus, and you can go anytime of day whether it's for afternoon tea or a swanky evening meal with cocktails. This is certainly one for special occasions, but a fantastic experience that is worth it.
Another great Mayfair restaurant is Bibi, a 9 minute walk from our Grosvenor Square parking. This is one of the best Indian restaurants in London, with a menu perfect for sharing and stunning, cosy and welcoming interiors that will make you want to stay all night. Using British produce combined with contemporary Indian flavours, you will experience Indian food like never before. There are tasting menus if you want to try the chef's recommendations, as it will be hard to pick from the extensive menu, before just a short walk back to our Bond Street car park at Grosvenor Hill!
Afternoon Tea at Claridges
Claridges is one of the most iconic 5 star hotels in London, which our Bond Street car park at Grosvenor Hill is ideal for. It has long been a favourite of the Royal Family, inspired by the Art Deco era with exceptional interiors that embody luxury. You are unlikely to find another hotel like this, so when you're in London parking in our Grosvenor Square car park, we'd definitely recommend a visit for their Afternoon Tea. This is one of the best Afternoon Tea's you will have, with the perfect combination of sweet and savoury that is executed to perfection. All based on seasonal produce, Claridge's have been serving afternoon tea for nearly 150 years, so this is a must visit for a quintessentially British afternoon.
Explore Green Park and St James Park
If you want a break from the hustle and bustle of the city and are ready to enjoy some greenery, Green Park, also connected to St James Park, is just a 10 minute walk from Grosvenor Hill, our parking near Grosvenor Square. These parks are absolutely beautiful and they surround Buckingham Palace (we have a Buckingham Palace car park that's really close if you want to be based there for the day), so you can go to enjoy the palace as you stroll around the parks. Hire Santander Cycles to explore the parks if you're shorter on time, or walk to enjoy everything by foot. You're also not far from Hyde Park, with our Bilton Towers car park being another great option!
Enjoy Luxury Shopping From Our Bond Street Car Park
Care Park Grosvenor Hill also makes for the perfect Bond Street car park, situated just a 3 minute walk from Bond Street and all of the luxury it has to offer. Even if you're not in the market for any luxury goods, Bond Street is home to some of the world's most famous retailers, and subsequently the best window displays you will see, including Cartier, Dolce & Gabbana, Hermès, Prada, and so many more. Aside from the shopping, you will find luxury hotels, including Claridges, as mentioned above, all just around the corner from our Bond Street car park. There are also regular events in and around Bond Street, from open mic poetry to art exhibitions and dance workshops, so keep an eye out and make the most of what Bond Street has to offer!