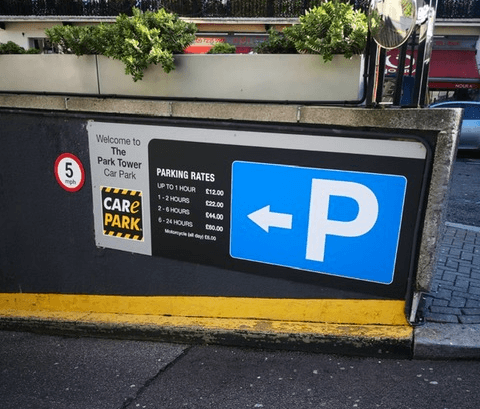 PARK TOWERS (LONDON) CAR PARK
Knightsbridge Parking
Park Towers, our Knightsbridge car park with 70 spaces, is centrally located in the heart of Knightsbridge, within a short walking distance of Harvey Nichols, Harrods and Hyde Park! Whether you are in the city for work or pleasure, this is a fantastic spot for you to explore some of London's most exciting areas. Plus, we're just a 3 minute walk from Knightsbridge Tube Station if you did want to leave your car safe and sound in our Knightsbridge parking and explore more of the city.
Knightsbridge Tube Station - 3 mins walk
Harrods - 5 mins walk
Hyde Park - 5 mins walk
What Makes our Knightsbridge Car Park Different
24 hour access
Great location for business or pleasure
Fully accessible to wheelchairs
CCTV with ANPR cameras
Entry and exit system that is completely secure
What Parking Options Are Available At Park Towers
No matter what your needs are when it comes to parking in our Knightsbridge car park, we are able to deliver. You can park with us for less than 30 minutes, 3 days or three weeks if you need to, safe in the knowledge that your car is fully secure and accessible. We have a wide range of car parks in the city centre, from Regent Street parking to Bilton Towers, so you have plenty of options to park with us.
Things To Do When Parking Near Knightsbridge
The area around our Knightsbridge parking is fantastic for a day out, as well as being very close to major tube stops if you want to explore more of the city. For some inspiration about how you can spend your time in the city, look no further!
| | Park Until | Price | |
| --- | --- | --- | --- |
| Up to 1 hour | 07:11 - 09/12/2023 | £12.00 | |
| 1-2 hours | 08:11 - 09/12/2023 | £22.00 | |
| 2-6 hours | 12:11 - 09/12/2023 | £44.00 | |
| 6-24 hours | 06:11 - 10/12/2023 | £60.00 | |
Find Out More About Care Park Knightsbridge
If you have any questions about our parking near Knightsbridge, or you need to get in touch with a member of our team, contact us today!
Take A Look Around Belgravia
When you choose our Knightsbridge parking, you're right on the doorstep of Belgravia, one of London's most elegant districts with stunning townhouses, some of the best hotels the city has to offer, designer boutiques and so much more. Head to Eaton Square Garden to enjoy a breath of fresh air, go to Amaya for a Michelin starred Indian meal or explore Harvey Nichols for some of the best window shopping.
If you've got a sweet tooth, then make sure you head to Peggy Porschen! This is a very iconic chic bakery in the middle of Belgravia with an array of stunning cakes that not only taste incredible, but genuinely look even better. You're just around the corner from our Buckingham Palace parking here too! You can stop by and get a cake to take away and enjoy in Hyde Park, or go to The Lanesborough where you can have a Peggy Porschen Afternoon Tea!
You can simply head into Belgravia after parking with us at our Knightsbridge car park and spend the day window shopping if you?d like and stop for a spot of lunch, as it's such a beautiful place.
Stroll Around Hyde Park
When you park at Care Park Knightsbridge, you're just a few minutes from Hyde Park, so this is the perfect place to securely park your car. You will be nearest to the south side of the park, where you can stroll and enjoy the stunning Rose Garden, you can see the Holocaust Memorial and the beautiful Serpentine Waterfall. Once you have finished exploring the park, head back towards the car park and stop off at Osteria Romana for some fantastic Italian food. The southern side of the park is a wonderful day out, so it is always worth a visit when parking near Knightsbridge. We have another car park near Hyde Park, Bilton Towers car park, giving you another parking option!
Explore Famous Museums
If you want to go slightly further (around a 25 minute walk from our Knightsbridge parking), you can make your way over to some of London's most famous museums! Within a short space of each other, you have the Victoria and Albert Museum, The Natural History Museum and The National Art Library. You can make a day of exploring these museums, then make the most of some of the fantastic restaurants in the area, including Tapas Brindisa in South Kensington. The walk from our Knightsbridge car park over to the museums is beautiful, where you will also make your way past Harvey Nichols, Harrods and Thurloe Square Garden, so you will get to explore more of London on your way over! We have a wide variety of parking in central London, so you can choose the best location for you.
PARK TOWERS (LONDON) CAR PARK
The Park Tower Car Park, 101 knightsbridge, London, SW1X 7RN
DIRECTIONS